Need a book or screenplay? Hire me. Know someone who does? Email me for a 10% referral fee on all money I receive from the client for a full year. To learn about my writing services, please visit BookProposal.net.
Do you like cross-genre stories (fantasy/comedy, SF/comedy, fantasy/horror, etc.)? Please enjoy my new podcast, Ghosts On Drugs, by clicking here.
Please note that these listings are updated frequently. The best way to be instantly notified about new show postings is to subscribe to this BestNewYorkComedy.com blog and allow for email notifications. Other ways to keep up are to follow me on Twitter (@hybender) or Instagram (@hybenderny), and/or to visit the desktop version of this site at HyReviews.com.
In addition, you can use the links below to explore the schedules of all the major comedy venues in NYC; and you can find excellent live comedy recommendations weekly via The New York Times.
That said, my top NYC comedy recommendations for December 2018 (with more to come soon) include:
Thursday 12/20-Saturday 12/22: An Emmy-winning star cast member of Saturday Night Live, force-of-nature voiceover artist who's performed characters for Family Guy, American Dad, Scooby Doo, and many other shows, and actress who's memorably performed on HBO's Crashing and Barry headlines for three nights at Carolines: Melissa Villaseñor (7:30 Thursday, 7:30 pm & 10:00 pm Friday & Saturday; $32.75 plus 2-drink min., Carolines Comedy Club at 1626 Broadway)
Tuesday 12/18-Thursday 12/20: This solo production, which debuted at October's FringeNYC and is now enjoying a three-night revival at the Here Theatre, starts out pretending to be a scientific lecture about and demonstration of chaos theory.
But it's really a highly interactive show that uses comedy and thoughtfully structured game-play for nudging audiences to explore their wishes and desires, push past boundaries, connect with everyone around them, and be open to anything.
It's all courtesy of writer/performer Jessica Ellen Creane, who cycles between faux-shyly giving illustrated talks about such things as fractals, love, and velociraptors, making herself fearlessly vulnerable, and improvising quick-witted responses to audience choices. For example, when Creane asked me to name a goal, I replied, "writing and selling a movie." She immediately gave me the best pep talk I've ever had, stating beyond doubt that I'd succeed. In gratitude, I added, "I'll cast you in it." Without missing a beat, and fully committing to her scientist character (wearing thick black-frame glasses with no lenses), Creane tossed off, "I'm not good at acting" before moving on to help someone else. That she even thought of that line demonstrates what a superb actress Creane is…and how completely she performs in the moment.
Because this show is so heavily dependent on interaction, each edition will be different based on the decisions made by you and your fellow audience members. Along the same lines, how much you enjoy it, and genuinely get out of it, will depend heavily on what you bring to it.
For me, it was a **** (out of 4) show. If you come experience this—and you should—I hope you have a wonderful time too; and that it moves you closer to your dreams.
Chaos Theory is playing 8:30 pm on Tuesday 12/18, Wednesday 12/19, and Thursday 12/20 for $20 at the Here Theatre at 145 Sixth Avenue; take C/E subway to Spring Street and enter on Dominick Street)
Thursday 12/20: Comics who are immigrants—including Bill Santiago (Comedy Central Presents, Showtime, CNN; author of Pardon My Spanglish)—perform stand-up, storytelling, or characters, and comics who aren't perform immigrant-related material, for this show celebrating talents who weren't born in the US hosted by German-American Lucie Pohl (above; voice of Mercy in Overwatch and Harmony in Red Dwarf XI): Immigrant Jam (7:30 pm, $7, Astoria Queens' QED: A Place to Show & Tell at 27-16 23rd Avenue)
Friday 12/21: Comics Ian Fidance (host of Picture This!; regular on SiriusXM's You Up? with Nikki Glaser, Comedy Central Radio), Danny Rathbun, Chloe McGovern, and Kelly McInerney share cringe-worthy experiences from their pasts hosted by Brendan Busee & Ron Raganella: Shame!: The Not-So-Honorable Comedy Show (9:30 pm, $8, Astoria Queens' QED: A Place to Show & Tell at 27-16 23rd Avenue)
Saturday 12/22: Seven comics TBA perform stand-up that might include material about where they originally came from and the journey that led them to NYC, all hosted by the charming Katie Boyle (above; from Ireland): Transplants (7:30 pm, $7, Astoria Queens' QED: A Place to Show & Tell at 27-16 23rd Avenue)
Sunday 12/23: Storyteller Lyssa Mandel and her boyfriend/co-host Phil Casale invite comics TBA to "expose their bleeding-heart adolescent artifacts (journal entries, poetry, original songs, and art), then laugh at and with their own flaws:" The Bitch Seat (8:30 pm, $10, Astoria Queens' QED: A Place to Show & Tell at 27-16 23rd Avenue)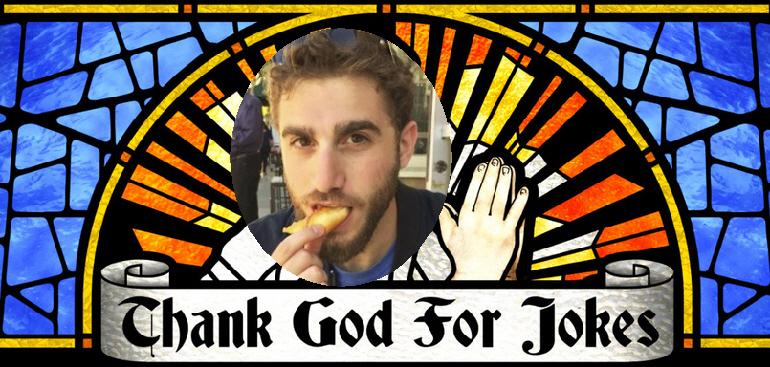 Wednesday 12/26: Storytellers TBA share tales about how faith has affected their lives hosted by Ian Goldstein (above): All Is Forgiven: A Non-Religious Comedy Show About Religion (7:30 pm, $10, Astoria Queens' QED: A Place to Show & Tell at 27-16 23rd Avenue)
Wednesday 12/26: A guest comic, two audience members selected on the spot, and hosts Glen & Wade play a game of Dungeons & Dragons "as a multimedia epic, with music, visual guides, drinking games, and a stand-up comedy set that will be woven into the story:" Q.E.D&D (9:00 pm, $8, Astoria Queens' QED: A Place to Show & Tell at 27-16 23rd Avenue)
Friday 12/28: Hosts Aaron Jackson & Josh Sharp invite you to celebrate the holidays with them and their guests Naomi Ekperigin (dynamite rising star stand-up; Comedy Central Half Hour; writer for Comedy Central's Broad City and Hulu's Difficult People; MTV, VH1, FX), Sydnee Washington (Conan O'Brien, MTV2's Vidiots, co-host of podcast The Unofficial Expert), Pat Regan (The Eric Andre Show, Last Comic Standing), Jaboukie Young-White (film Rough Night), Nathan Lee Graham (Zoolander, LA to Vegas), Pat Regan, Amy Jo Jackson, Erin Markey, and Henry Koperski and His Straights: A Gay Show for All People: Holiday Spectacular (8:00 pm, $15, Brooklyn's Union Hall at 702 Union Street; take R subway to Union Street)
You can find the vast majority of notable NYC live comedy shows by using the links below to explore the schedules of the following top NYC comedy venues:
Best Inexpensive Stand-Up, Improv, Sketch, and Storytelling
Upright Citizens Brigade Hell's Kitchen
555 West 42nd Street; 152-seater; one of the most respected comedy showcases in the world; especially strong on improv, sketch, solo shows, and one-act comedic plays; shows free-$12
Upright Citizens Brigade East
153 East 3rd Street; 99-seater; a top comedy venue that focuses more than sister theatre UCB Hell's Kitchen on stand-up and screenings, and on experimental shows taking big risks; shows free-$12
The PIT Striker (Upstairs) Theatre
123 East 24th Street; 88-seater; a top venue that's a powerful rival of UCB, and often surpasses UCB when blending comedy with music and/or theatricality; shows free-$20
The PIT Underground (Downstairs) Theatre
123 East 24th Street; 40-seater; often more quirky & experimental than upstairs Striker; shows free-$10
The PIT Loft
154 West 29th Street; 50-seater; the third of The PIT theatres, located separately on the West side, hosts a wide range of comedy, but is especially effective as a home for intimate solo and/or theatrical shows; free-$20
The Magnet
254 West 29th Street; 60-seat theatre; strong on improv, musical improv, sketch, and energy; shows $5-$10
The Creek and the Cave
Queens' Long Island City; 40-seat theatre upstairs, 25 downstairs; virtually all weeknight shows free; weekend shows free-$10
Union Hall
702 Union Street in Brooklyn; R to Union Street; 50-seat theatre; shows $5-$20
Littlefield
635 Sackett Street in Brooklyn; R to Union Street; 100-seat theatre; shows $5-$20
Bell House
149 7th Street in Brooklyn; R to 9th Street or F/G to Fourth Ave.; 200-seat theatre; shows $10-$25
QED: A Place to Show & Tell
27-16 23rd Avenue in Astoria Queens; N/W to Ditmars Boulevard; 40-seat theatre; shows free-$10
Best NYC Stand-Up Comedy Clubs
Comedy Cellar
117 MacDougal Street; among the finest daily stand-up lineups in the world; 2-item min.
Village Underground
130 West 3rd Street; Comedy Cellar's larger sister venue, just around the corner with the same top comics; 2-item min.
The Stand
239 Third Avenue—moving to Union Square this summer; competitor to Comedy Cellar; no drink min.—support this policy!
Carolines Comedy Club
1626 Broadway; focuses on the world's top headliners, who perform hour-long sets; 2-drink min.
Gotham Comedy Club
208 West 23rd Street; headliners on weekends, specialty & lineup shows weekdays; 2-drink min.
Eastville Comedy Club
moving to Brooklyn in June 2018, please stay tuned; strong weekend lineups; no cover using code HyReviews; 2-drink min.
Greenwich Village Comedy Club
99 MacDougal Street; convenient if Comedy Cellar's sold out; no cover using code HyReviews; 2-drink min.
Comic Strip Live
1568 Second Avenue, off 81st; Upper East Side club with typically solid lineups; 2-drink min.
Stand Up NY
236 West 78th Street, off Broadway; Upper West Side club with typically solid lineups; 2-drink min.
The Standing Room
4738 Vernon Blvd., by #7 train; Queens LIC club; no drink min.—support this policy!
NYC Stand-Up Open Mics & Improv Jams
If you want stage time, you can find one or more stand-up open mics virtually any night at Manhattan's The PIT, Eastville Comedy Club, and Stand Up NY Comedy Club, and at Queens LIC's The Creek and Astoria Queens' QED.
In addition, at the East Village's UCB East you can typically find a stand-up open mic Thursdays at 6:00 pm, an improv jam Wednesdays at 11:15 pm, and a rare bring-your-own-group improv/sketch open stage Sundays at 11:00 pm. And in Chelsea, The Magnet offers an improv jam on Wednesdays at 6:00 pm, and a rare musical improv jam on Tuesdays at 6:00 pm.
All of the venues above typically provide you the stage time either for free or for $5.
There are also numerous other open mics throughout the city. For a more comprehensive list, please visit FreeMicsNYC.
Special Thanks to Mindy and Anya
Special thanks to comedy photographers supreme Anya Garrett and Mindy Tucker for creating so many of the stellar photos that grace this site…and the sites of hundreds of NYC comics.
Contact Hy
From legendary NYC comedy site Brooklyn Vegan: Thank God for Hy Bender's religiously updated show bible Best New York Comedy (and HyReviews.com). He is literally the only person in NYC providing daily summaries of what's happening comedy-wise. It must be exhausting keeping that monster of a website alive. It is your daily comedy itinerary and it scares me how on top of his shit this guy is.

From comedy & rock goddess Lane Moore (host of smash hit Tinder Live; author of How to be Alone; lead singer of Brooklyn band It Was Romance): Hy Bender lives and breathes comedy. He knows what he's talking about. Listen.

Please feel encouraged to reach out to tell me about comedy shows, provide feedback on my cross-genre short story anthology Ghosts on Drugs, hire me to develop your book or screenplay (please visit BookProposal.net or HyOnYourScript.com), or for any other reason by emailing me at hy@hyreviews.com.